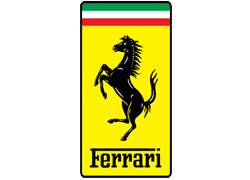 Few makes of luxury car can set the pulse racing like a Ferrari.
The Italian manufacturer has been at the pinnacle of supercar creation since its founding by Enzo Ferrari in 1929, and whether you are seeking a once in a lifetime thrill ride or a prestige motor for that special occasion, choosing a Ferrari won't leave you disappointed.
Choose from our selection of classic and modern Ferrari's for Hire
When you hire a Ferrari, you're adopting a lifestyle of glamour and sophistication, best exemplified by its famous marques such as the 430 Spider, the classic 328 GTS or the dynamic California supercar. Thanks to its sexy lines and consistently class-leading performances, the Ferrari range has generally been the preserve of the famous and wealthy, from movie stars to top sports icons. The distinctive mid-engined V8 was first introduced in the late 1960's and has provided Ferrari's distinctive look and feel ever since, accounting for more than half of the models produced. Even with an increasing number of competitors in the supercar market, few manufacturers can boast the iconic look or feel of the greatest of Italian motoring brands.
Each Ferrari offers a fantastic driving experience, with unbelievable power married to ride handling and sophistication that will leave you breathless. Boasting refinements and elegant touches galore, every Ferrari is a driver's dream, and each car is ideal to hire for a luxury break, a one off occasion or a fantastic driving experience. Most marques available to hire feature a classic V8 engine and a coupe styling, with power outputs of up to 450 bhp and top speeds approaching 200 mph. Driver comfort and safety isn't forgotten, with plenty of refinements to make your experience not only memorable but safe!
If you're after the perfect car for the perfect occasion, try a Ferrari hire experience from Bespokes and live the dream.